Bridge Bread Bakery is a non-profit social enterprise in the city of St. Louis that employs individuals experiencing homelessness and provides them with marketable skills and reliable employment. At Bridge Bread, we make a difference in the lives of the individuals who work for us. We are our brother's keeper.
Our employees earn a living wage while learning or re-learning the value of being productive and self-sufficient. At Bridge Bread, they become contributing members of the community.
After training in the bakery and establishing a positive work record, some staff stay with us, while others move on to other jobs and other fields. Bridge Bread is their doorway – to a hopeful and dignified future.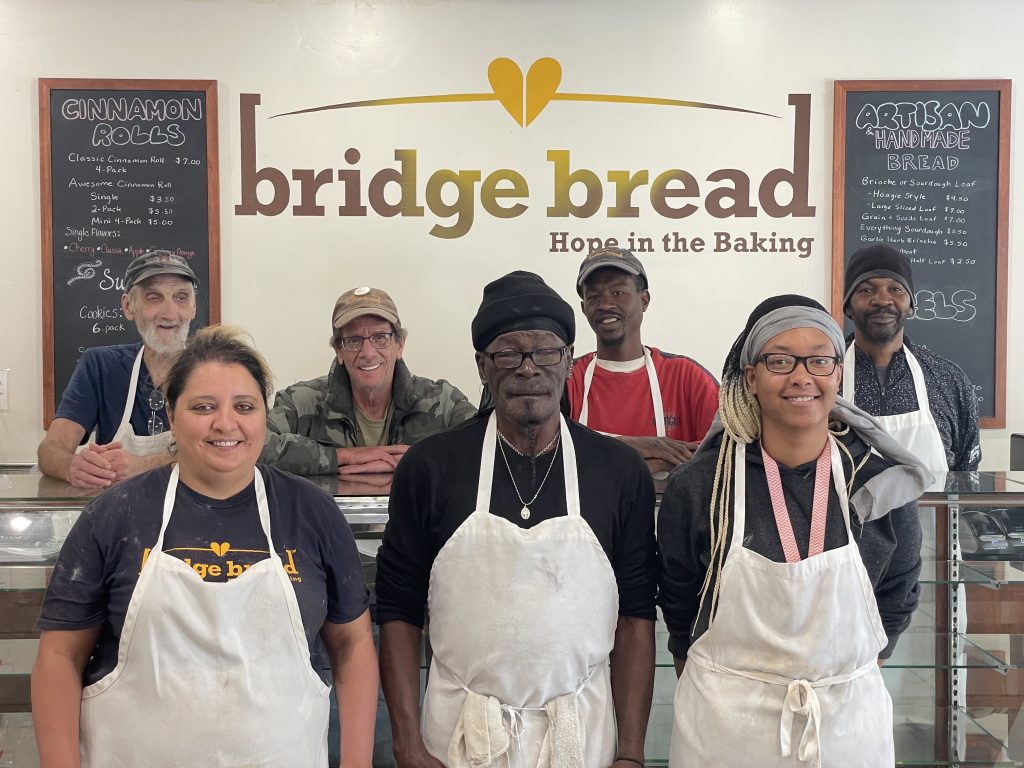 Our successful formula is built on three key factors:
A significant amount of our sales revenue goes directly to compensating employees. Our bakers and operations manager are the only paid employees at Bridge Bread. The operations manager is paid via grants and donations. All other work is done by volunteers.
Because bread is a consumable commodity, customers return week after week.
Baking is a valuable trade skill that provides a sustainable source of income for homeless and out-of-work individuals.
Our Success:

Approximately two-thirds of the bakers who have worked at Bridge Bread over the years have been successful. They continue to be housed and employed.
You Can Help. We encourage the community to get involved:
Buy our products online, in person at our Bake Shop, or from our mobile food truck.
Volunteer with our organization. 
Distribute our products through your church, business, or restaurant.
Tell others about the work of Bridge Bread.
Follow us on social media – www.facebook.com/bridgebread, @bridgebread on Instagram, and www.linkedin.com/company/bridge-bread-bakery/ on LinkedIn.
Donate:  Financial donations cover rent, utilities, administration salaries, and insurance. Sales of the products made by our bakers cover the cost of salaries and ingredients.
Bridge Bread, founded in 2011 by Fred and Sharon Domke, earned a 2021 Gold Seal of Transparency. You can view our financial details and learn more about the people at our organization by clicking below: