Our bagels are New York style kettle boiled bagels (also called water bagels). They are chewy, delicious, and free of preservatives/strange additives. The made from scratch process is mixing ingredients, kneading the dough by hand, letting it rise, then boiling, egg washing, and baking the bagels. They are great plain, with cream cheese, or even as sandwiches!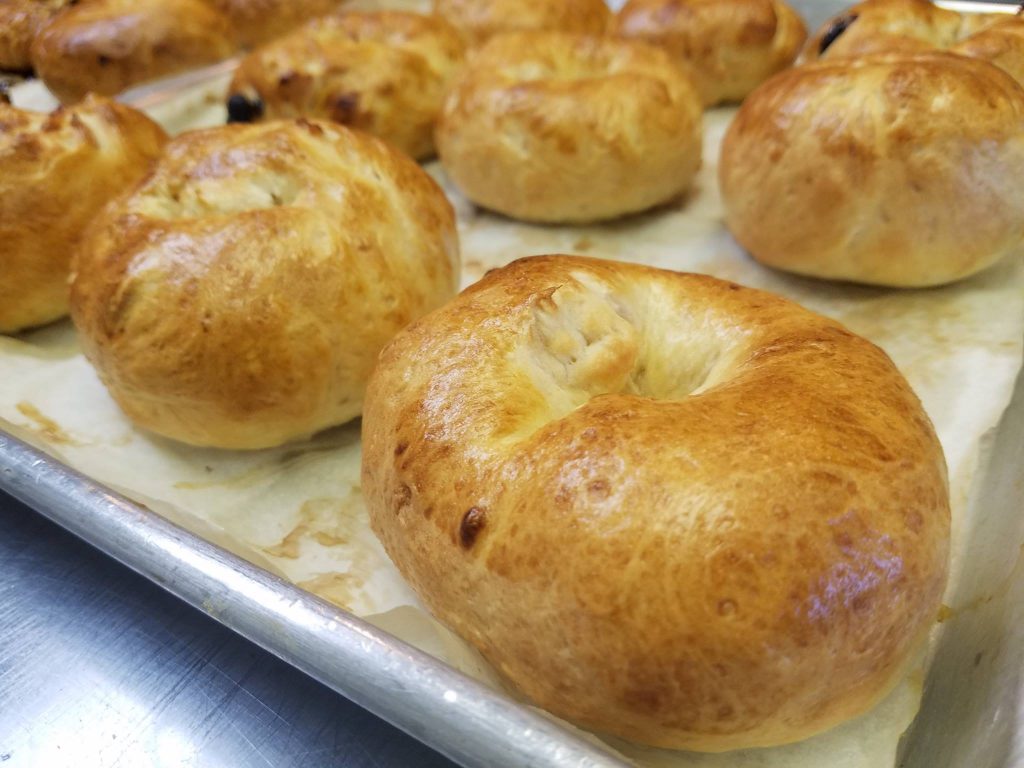 The recipe and initial training on making the bagels came from Master Baker Abby Schwent. She worked with the Bakers on the made-from-scratch recipe using only flour, water, brown sugar, salt and yeast. These are the real thing – kettle boiled, egg washed and baked classic bagels.
Abby makes delicious artisan breads and sells them at the Land of Goshen Farmer's Market in Edwardsville on most Saturdays. Her Farmer's Market business is called La Grigne Artisan Breads. Abby was a winner of a Bake for Good Scholarship from King Arthur Flour and attended their Artisan Bread Baking class in Vermont for a week. If you're in Edwardsville on Saturday, and check out the great baked goods. Otherwise come visit Bridge Bread on Cherokee in St. Louis.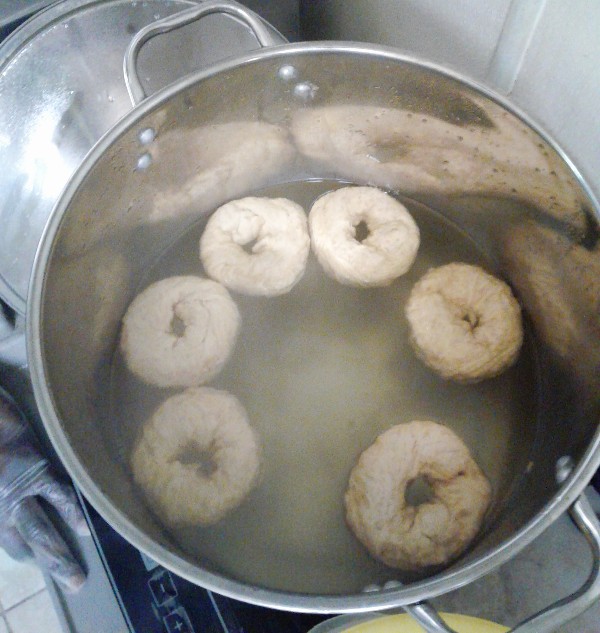 If you want to make your own, here's the recipe:
Bagels
YIELD: 8 BAGELS
Ingredients:
• 1 and 1/2 cups warm water
• 2 and 3/4 teaspoons Red Star® Quick-rise™ yeast
• 4 cups bread flour
• 1 Tablespoon light or dark brown sugar (or barley malt syrup)
• 2 teaspoons salt
WATER BATH
• 2 quarts water
• 1/4 cup honey or barley malt syrup (optional)
Directions:
Prepare the dough: Measure 1 and 1/2 cups warm water in a liquid measuring cup or bowl. Whisk in the yeast until completely dissolved. Allow to sit for 5 minutes.
In the bowl of a stand mixer fitted with a dough hook attachment, beat the flour, brown sugar, and salt for a few seconds on medium speed. With the mixer running on medium speed, slowly drizzle in the water/yeast making sure to scrape out any undissolved yeast with a spatula. You want all the yeast in the dough.
Switch mixer to low speed and mix until all the flour has been worked into the dough. The dough will look shredded; that's ok. Once it appears this way, increase the speed to medium and beat for 8 minutes straight. The dough is incredibly stiff and will be somewhat dry; do not be tempted to add more liquid. During the 8 minutes, if the dough splits or breaks apart– stop the mixer and fold the dough back together with your hands– then continue to beat until smooth and cohesive.
Shape the dough into a ball on a lightly floured surface. Lightly grease a large bowl with oil or spray with nonstick spray. Place the dough in the bowl, turning it to coat all sides in the oil. Loosely cover the bowl with aluminum foil or a clean kitchen towel and allow the dough to rise at room temperature for 1 and 1/2 hours. You want the dough to be larger and puffy, but not quite doubled in size. This could range from 70 – 100 minutes. Use your best judgement.
Line two large baking sheets with parchment paper or silicone baking mats. Place a wire rack over a third baking sheet. Set all three aside.
Shape the bagels: When the dough is ready, gently punch it down if you notice any air bubbles. Turn it out onto a clean surface. It will still be a little stiff– not sticky. Divide the dough into 8 equal pieces. Just eyeball it. Makes no difference if one is slightly larger than another. Shape each piece into a ball and place 4 balls onto the two lined baking sheet. Then, hold up one ball then press your index finger through the center of each ball to make a hole. Poke two fingers through and widen the hole by rotating your fingers in a circular motion. You want the hole about 1.5 – 2 inches in diameter. Cover the shaped bagels with a damp kitchen towel and allow to rest as you prep the water bath.
Preheat oven to 425°F (218°C).
Water bath: Fill a large, wide pan with 2 quarts of water. Whisk in the honey. Bring water to a boil, then reduce heat to medium or medium-high so that the water remains simmering. Drop bagels in, 2-3 at a time, making sure they have enough room to float around. Cook the bagels for 1 minute on each side. Transfer each bagel to the wire rack. They will look a little shriveled– that's ok!
Egg Wash Bagels (add toppings if desired) Note: Our Bagels are Vegan, so we skip the egg wash!
Bake for 20-25 minutes, rotating the pan halfway through. You want the bagels to be a dark golden brown.
But wouldn't you rather let the Bridge Bread Bakers do it for you?

Bridge Bread can be your local bagel store for the best bagels ever.
And remember that Bridge Bread is a non-profit social enterprise that hires people experiencing homelessness. You get to enjoy great bagels while you make the world a better place.